Strong bonds with electronic assembly adhesives glue from china electronic adhesive glue manufacturer
Best Adhesive Provider
Strong bonds with electronic assembly adhesives glue from china electronic adhesive glue manufacturer
Finding a good electronic assembly adhesive is important because you are guaranteed a strong bond. A good adhesive can protect your components from potential damage. Adhesives have made it possible for electronics to reach the next level in the sense that they eliminate the need for soldering.
Recent electronic innovations like augmented reality headsets, defense telecommunications computers, digital cameras, medical applications, mobile devices, and hybrid vehicles, among many others, have completely changed lives in a big way. This makes electronic assembly adhesive such an important part of the industry. Many adhesive technologies are being used today to meet specific application needs.
With a good adhesive, you achieve a strong bond while protecting components from the effects of extreme environmental conditions, mechanical shock, corrosion, moisture, heat, and too much vibration.
This is why soldering systems are slowly being replaced. There are different situations in which the adhesive can be used during assembly. This includes masking before a conformal coating, encapsulation, potting fiber optic cables, electric motor applications, and heat sinks.
Masking
Conformal coating is done to sensitive PCB using polymeric film tech to ensure components remain protected from environmental stress, chemicals, dust, moisture, corrosion, vibration, and other external factors. These are the things that tend to decrease electronic components' performance. Every coating, such as UV, water-based, polyurethane, and acrylic cure, acts according to properties in specific environments within the printed circuit board. It is important to pick the ideal material needed for the best protection.
Before conformal coating, masking is done in specific parts of the PCB to protect them. This includes sensitive components, test sites, pins, connectors, LED surfaces, and so on, where electrical continuity is needed and should be maintained. These areas must be uncoated to ensure that they function as needed. The peelable masks are a great way to protect all restricted areas so that conformal coatings don't invade them.
Masking involves different steps, and after applying such a product, curing happens in a matter of seconds after UV exposure. Fast cure ensures that circuit boards can be processed immediately.
Heat sink attachments
Electronic assembly adhesives can be used for heat sink attachments as well. Today, electronic devices are becoming smaller, the correlated heat and power consumed have become more concentrated, and there is a need for it to be dissipated. This makes heat transfer a lot more valuable. The heat sink is a device that has fins and a base. After heating up, the heat sink will disperse that heat to ensure that the chip remains at the right temperature. If a heat sink is not present, overheating and system destruction will occur.
The heat sink adhesives are designed to bond heat sinks to circuit boards and electrical components to handle the heat; a strong structural bond and thermal conductivity are needed. The adhesives are capable of effectively and rapidly transferring heat from the components. This is commonly used in memory devices, mobile phones, LED lights, refrigerators, electric vehicles, and computers.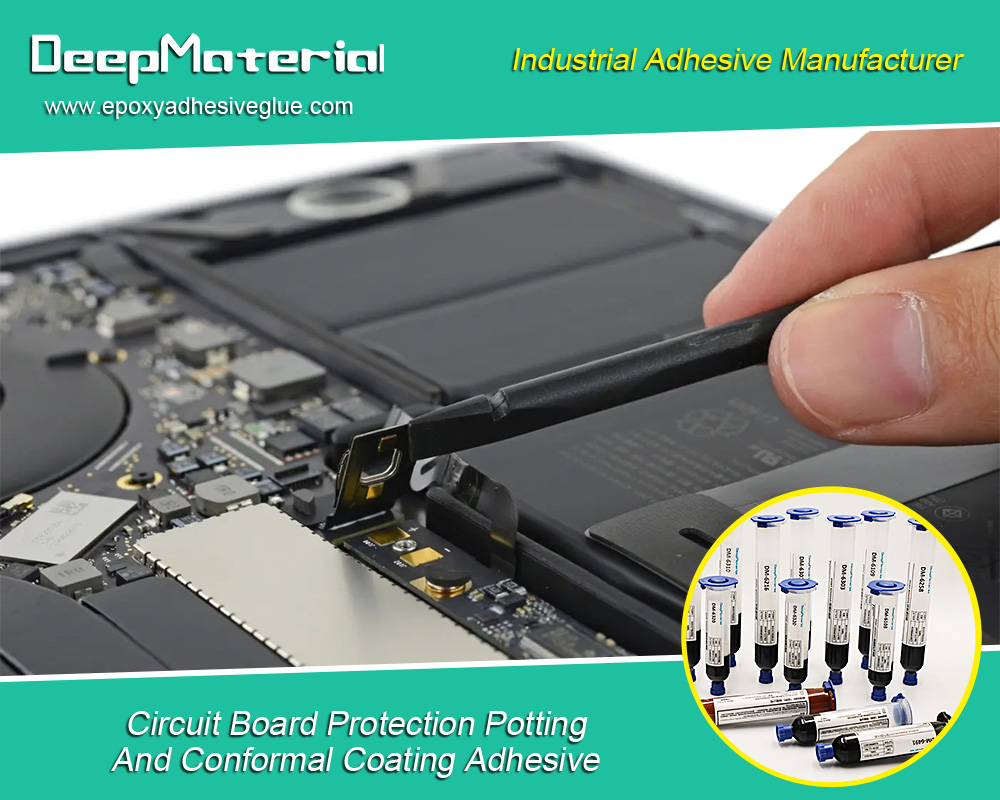 The best adhesives
The best electronic assembly adhesive needs to handle a lot. It helps to evaluate exactly want you want to do with it before making a choice. At DeepMaterial, we make it our business to produce the highest quality electronic adhesives for you to use. We have a wide variety of adhesives that can handle the task. We can offer guidance during the selection process and give recommendations where needed.
For more about strong bonds with electronic assembly adhesives glue from china electronic adhesive glue manufacturer,you can pay a visit to DeepMaterial at https://www.epoxyadhesiveglue.com/consumer-electronics-assembly/ for more info.