Optical bonding adhesive options from DeepMaterial uv curing optical adhesive glue supplier for fiber optics assembly
Best Epoxy Adhesive Glue Manufacturer
Optical bonding adhesive options from DeepMaterial uv curing optical adhesive glue supplier for fiber optics assembly
Optic engineers require optical bonding adhesives to help bond components together in optical, fiber optic, optical element fixturing and positioning, and Prism and lens bonding. Every optical bonding adhesive comes with its limitations and strengths. This is why it is so challenging to find the most suitable option for tasks. After carefully weighing and considering the material properties that match the application requirements, you need to select an adhesive. Adhesives need to be balanced with the demands of the process. The primary considerations are refractive index and optical transmission to see whether the adhesive is a good choice.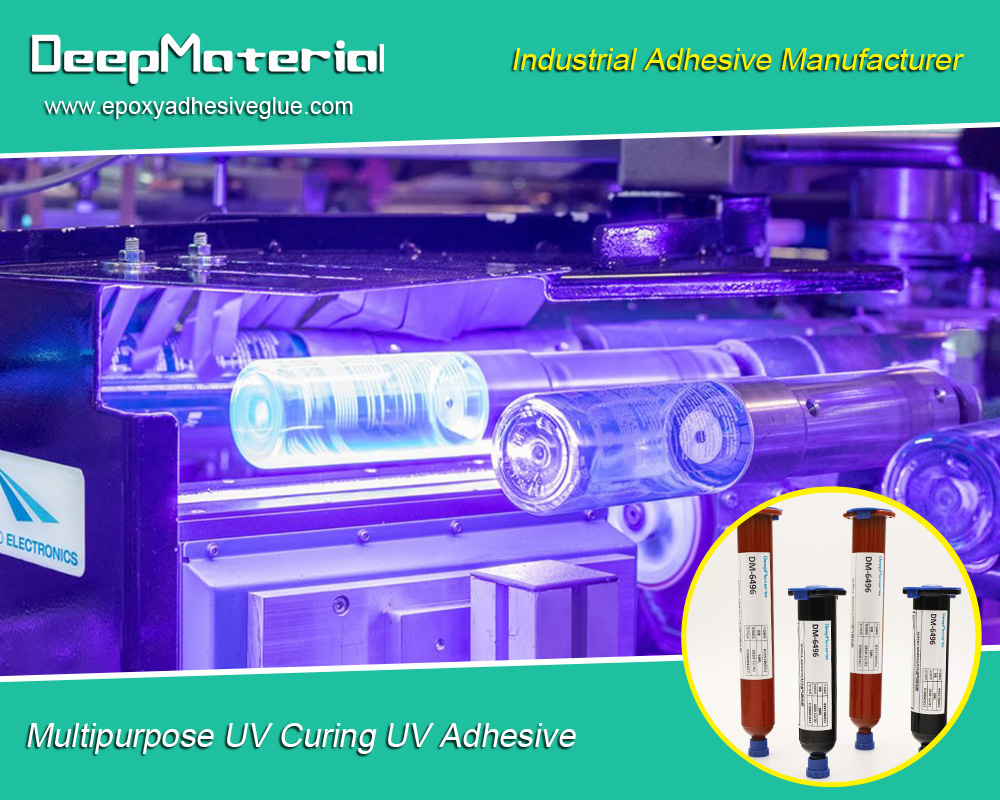 Properties of optical bonding adhesives
Regardless of the type, adhesives will shrink in volume to some extent when curing. Because of this shrinking, stress can be imposed on the parts, leading to alignment and focusing issues on the assembly phase. If you are to overcome this, you should pick a material that has a low shrinkage for optical bonding.
Usually, epoxy adhesives shrinkage stands at about 3-5 percent. There are some special curing optical adhesives with a very low shrinkage of around 0.2-0.4 percent. These can maintain the best optical clarity. The modulus and hardness of the resulting material are very important for the performance and integrity of the structure. Fiber optic adhesives may need a hard cure to ensure they can be polished and also prevent any movement of the fiber.
It is important to think of outgassing as well. This refers to volatile materials that could be released during and after the cure. This is a consideration to make when you are picking the best optical bonding adhesive. Some of the volatiles may cause quality issues if condensed.
Handling and curing optical adhesives
Optics engineers need to consider the curing method and how exactly this will affect the complexity and speed of your project. Usually, UV-curing adhesives will cure in a  matter of seconds. This can be a very important thing in case speed is needed in the production process. A rapid cure is needed during focusing and alignment because the adhesive cures fast after positioning. This means complex fixtures and jigs involved in the assembly are eliminated.
If you were to use two part optical epoxies, you realize that the curing process takes much longer than the UV adhesives. These can be accelerated using heat even though thermal excursion can cause stress to the parts post and during cure. One advantage of epoxies is that they give a good hardness and better temperature and chemical resistance. These can resist autoclaving cycles. There are optical epoxies options available in the market today.
When choosing an optical bonding adhesive, viscosity should be considered. You have to determine what the adhesive is needed for. Is it for filling gaps, bridging gaps, or wicking into gaps? In a two-part system that is specified, mixing can be a concern at times. You may need some special equipment to provide a homogeneous mix repeatedly. You may also need degassing if the whole process ends up inducing air which becomes unacceptable in the path of light.
DeepMaterial uv curing optical bonding adhesives
Considering all the characteristics of a good optical bonding adhesive, we strive to produce the best quality adhesive line to meet the demands. We can also offer some custom-made solutions to help you meet your specific demands as needed.
For more about optical bonding adhesive options from DeepMaterial uv curing optical adhesive glue supplier for fiber optics assembly,you can pay a visit to DeepMaterial at https://www.epoxyadhesiveglue.com/display-shading-glue/ for more info.